Clinical Affairs, Regulatory and Quality for Medical Devices and In-Vitro Diagnostic
Training Objectives
Develop a broad range of technical and human skills in order to evolve towards the company's decision-making centres and to play a key role in maintaining the company's competitiveness and sustainability, faced with the evolution of the CA / RA / QA functions.
The Certificate of Advanced Studies (CAS) HES-SO contributes to the development of skills including:
Optimal preparation in the new regulatory environment of the MDR 2017/745 and the IVDR 2017/746
Strategic, tactical and communications aptitude faced with crisis situations and interaction difficulties with Notified Bodies and the Authorities,
Managerial capabilities surrounding production and marketing processes for new medical products,
Technical expertise in key subjects such as biocompatibility, usability, clinical investigation and evaluation, software validation,
Management support during the development projects for new products.
Strengths of the training
On-the-job training type
Duration: 28 days of courses over 7 months (including final exam), class every Friday
2 months personal work with coaching on CAS Thesis
Start of the program: each year
Location: HEIG-VD, Route de Cheseaux 1, 1400 Yverdon-les-Bains
Three modules and a personal project
This training is offered in partnership with Medidee Services SA, an international partner involved in clinical, regulatory and quality affairs for Medical Devices and IVD.
After training, CA / RA / QA specialists are at the heart of the management of development projects for new products. They are also frequently called on to assist with the set-up of production processes or the handling of product reliability problems.
Program recognition
This education program has been Reviewed by the Medical Device Committee of the RAPS Switzerland Chapter main international professional association within the regulatory domain for medical devices. It is also supported by SWISS MEDTECH, association representing the interests of the Swiss medtech industry. This enhances its recognition and confirms the professional quality of the training.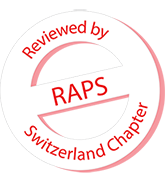 Target Audience

Employee within the regulatory, clinical and/or quality department of a manufacturing or subcontracting company,
Specialist involved in the manufacturing of sensitive medical products,
Laboratory assistant involved in the development of new analytical methods or process automation,
Mechanical, electronic or software engineer in charge of medical devices or IVD development projects,
Physician, scientist or inventor of medical products,
Employee involved in clinical studies or quality / regulatory processes within a healthcare organization.
Admission conditions
Higher education degree such as a Bachelor or Master's degree, of the type HES or EPF / UNI or equivalent, in the following fields:
Engineering, chemistry, biology or life science
Graduate in management or corporate economics
Higher education in nursing ,radiology or physiotherapy
Admission by application possible for holders of ET or CFC level education in a suitable educational domain (physical or chemical laboratory assistant) with extensive professional experience.
As the instruction and educational materials are provided in English, proficiency in English (reading and writing) is a prerequisite.