Switzerland, a small country located in the heart of Europe between France, Germany, Austria and Italy, is well known for its natural beauty and high standard of living. Roughly 25% of its surface is covered with mountains. Its population is just over 8 million inhabitants, including about 25% residents from foreign countries.
The country recognises four national languages: German (70%), French (25%), Italian (4%), and Romansh (less than 1%). Moreover, English is spoken by most Swiss.
The area enjoys a mild climate. In winter, the average daytime temperature ranges from -1° to 5° C; in summer, from 18° to 27° C. Depending on the location there are varying amounts of snow, usually from December to March.
The School of Management and Engineering Vaud (HEIG-VD) is located in Yverdon-les-Bains, in the French-speaking area of Switzerland.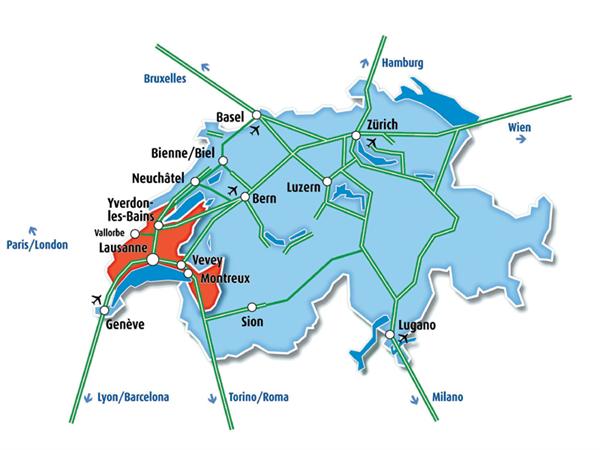 ​For exchange students interested in discovering Switzerland as well as other parts of Europe, Yverdon-les-Bains is ideally located. The Geneva-Cointrin International Airport is only 60kms away and offers an unbelievable selections of destinations for travelers with its low-cost flights.
Wonders of Switzerland such as the Jungfraujoch (highest train station in Europe), Rheinfalls (strongest waterfalls in Europe) and the fairytale city of Luzern are all less than 3 hours away. During winter, people tend to go skiing, or snow-shoe walking before enjoying hot, mulled wine, and famous swiss dishes such as fondue and raclette. The Christmas markets (especially the one in Montreux) are immensely popular.
In the summertime, almost every swiss city hosts an important music festival attended by thousand of spectators eager to see the world's most famous bands.
All of the neighbouring countries (France, Italy and Germany) offer wonderful opportunities for trips by car or train: it takes only 4 hours by train to get to Paris or Milan, 6 hours to the French coast, and 8 hours to travel to Munich and its famous Oktoberfest.